How to Navigate Our Online Store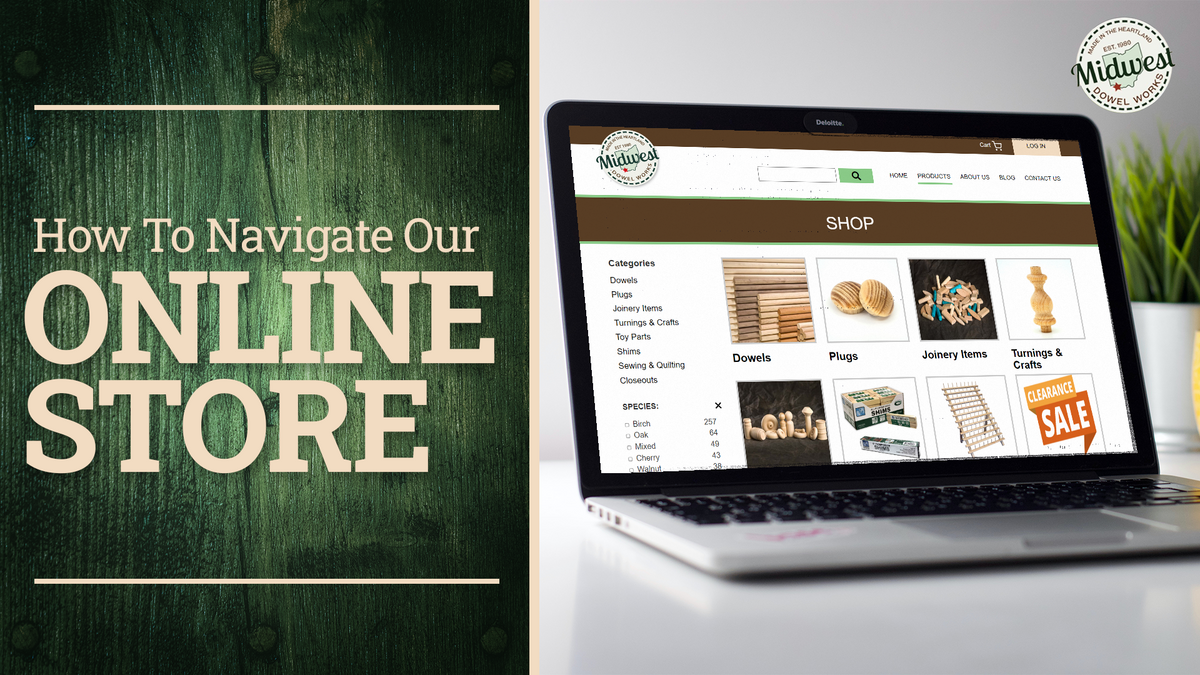 Midwest Dowel makes shopping for dowels and wood components online simple. Our shop lets you purchase dowels from the convenience of your home computer and have them shipped directly to your doorstep. 

Our online shop is designed to make it easy for you to find the products you are looking for then pay for them and put in your shipping address all in one place. This eliminates the need for redundant clicking, scrolling through endless pages, or losing all the items in your cart. 

Our team wants to make navigating our shop page as easy as possible. For that reason, we have put together this quick guide to help you understand how to navigate the shop page to help you make your purchases from Midwest Dowel easier than ever before. 
Shop Page Key Features
The shop page has a few key features that can help you in your shopping journey.
Creating an Account
Creating an account is one of the most important things you can do to simplify your shopping trip. When you create an account, you can put in your personal and billing information to make shopping and checkout a breeze.

An account allows you to significantly cut down on the amount of time it takes to check out after an order and ensures that all your confirmation information is correct.

We highly recommend making an account before your purchase, especially if you are planning to make multiple orders from Midwest Dowel.

Your account stores your order history so you can make repeat orders at the push of a button or review your recent order to confirm that you ordered everything you want.
Categories and Search Bar
The search bar is one of the first things you will notice. At the top of the page (right of our logo), the search bar allows you to search for specific items based on keywords.

The next feature we want to highlight is categories. This option allows you to look at just one category on our page to refine your search. 

Our categories are currently:
Dowels: Here you will be able to find all your dowel necessities, from individual dowel Rods to 12" packs as well as any dowel accessory.


Plugs: In this sub-category, you can view all available buttons, round head plugs, flat head plugs, side grain plugs, deck plugs, and cabinet plugs.


Joinery Items: Here you can discover an array of all our fluted dowel pins, spiral dowel pins, and joinery biscuits for all your (not sure what the need is) needs.


Turnings & Crafts: In this section, you can access several of our turnings and craft options such as spindles, pegs, finials, candle cups, craft sticks, geometric shapes, knobs, and pole sockets to help you increase your efficiency.


Toy Parts: Make sure to view our selection of toy wheels, axel pegs, wooden people, and cargo/train parts in this subcategory.


Shims: You can find all our available wood shims and composite shims in this section.


Sewing & Quilting: In this subcategory, you can browse through all our thread racks and quilt hangers.


Closeouts: We offer an array of high-quality wood products at a discounted price due to overstock or a product being discontinued.


This feature allows you to look at broader categories rather than search for a needle in the haystack. 
Filters
The next feature you should know is filters. Appearing on the sidebar (under categories), filters allow you to look for specific requirements. This process is a little narrower than searching by category. 

Currently, we offer filters for:
Species
Diameter
Length 
Type


Each option has several boxes to allow you to narrow your search as much as possible. To select which option, you want to see from each filter simply click the box next to your criteria. You can select one filter from each section. 

The category option allows you to explore our products based on wider categories and it is designed to help you discover new products or browse a variety of options that may be right for you.

This option allows you to search by options like species or length so finding the items you need is easier than ever before!

Looking for some DIY home ideas with dowels? Check out this blog!
Featured Items Category
The featured items category is a section on our home page designed to show off a few specific items that Midwest Dowel is selling at a special price point or as part of a limited-time bundle.

Featured items usually include assorted items like dowels, plugs, shims, and more. They are designed to offer an affordable array of products that meet your needs.
Return Policy
Our return policy is straightforward. If you are not satisfied with your purchase, you can return it within 30 days, for a full refund, subtracting shipping fees and a standard 15% restocking fee. All items must be returned to their original condition with all packaging and tags intact when applicable.

For defective or damaged products please contact our support team immediately. We will send a replacement as soon as possible. The only things not eligible for a return are custom items or clearance and final sale items.
Private Policy
When you visit our site, Midwest Dowel may collect specific information about you, including your name, email address, phone number, and shipping address. We also collect information about your browsing history, like the pages you visited and the products you viewed.

We use this information to communicate relevant information about your order and may send you promotional information or marketing materials if you have given us permission.

We never sell or rent your information to third parties. We may share information with third parties who help us process orders or conduct necessary customer service. These service providers are contractually obligated to protect your information. We may disclose information if we are required to do so by law.

We take the security of your personal information seriously and have implemented measures to protect it from unauthorized access, disclosure, or alteration. We use industry-standard encryption technology to protect your information during transmission and use secure servers to store it.
The Checkout Process
Next, let's look at the checkout process to answer any questions. 
Step One: Select Your Items
Go through the shop page and add the items you want to your cart. To add an item to your cart, simply click the green add to char button. 
Step Two: Finalize Your Cart
At this point, you can finalize your cart by changing the quantity of items you have or by going back to the product section to add more products. 
Step Three: Fill In Your Billing Information
Click "continue to check out" and fill out the billing information form. Be sure to include your phone number and add any additional instructions to your order. 
Step Four: Confirm Your Shipping
On the next screen, confirm which shipping rate you wish to pay. Orders over $40 are eligible for a reduced shipping rate. Orders over $60 get free shipping. 
Step Five: Confirm Payment
Fill out your payment information and submit your payment. Add in any discount codes on the right-side bar now. Your order is complete!

Curious about our selection of spindles and plugs? Click here to learn more!
The Wood Products and Components for Your Home from Midwest Dowel
You need a wide selection of dowels and wood products to choose from for your home DIY project needs. Because of that, Midwest Dowel makes buying dowels easy and convenient. 

Our wide selection of dowels and wood components is available right at your fingertips. What is more is that we make the checkout process easy, and we ship everything you need to your doorstep. 

To browse our full selection of products, click here!

Looking for more tips and tricks on spindles, pegs, and other components? Follow Midwest Dowel on Facebook, Instagram, Twitter, and Pinterest!

Happy with the difference Midwest Dowel has made for your home woodworking projects? Leave us a quick five-star review here!