How to Make the Best Use of Wood Dowels in Your Outdoor Crafts
Back To BLOG
The Role of Wood Dowels for your Outdoor Art Projects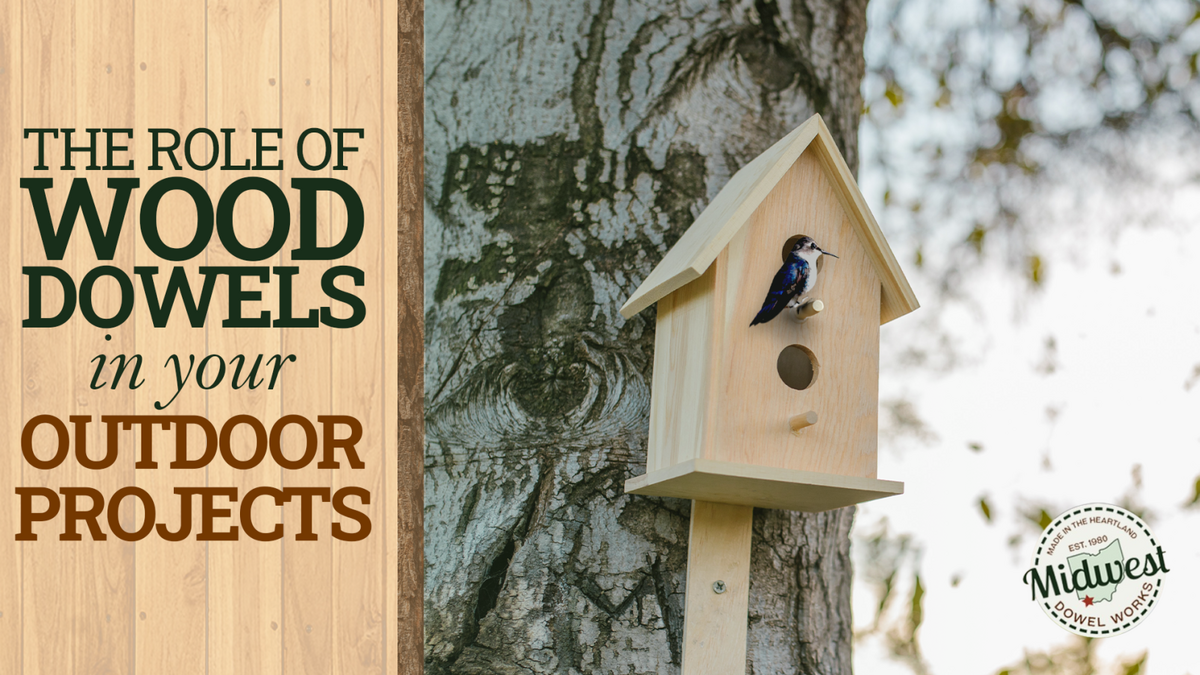 If you are a home outdoor art enthusiast, then you know that there are few materials more versatile than wood dowels.
Wood dowels are perfect for outdoor art projects as they can be sanded, painted, cut, and glued into any shape, style, or purpose. The options are endless, and the only limit is your creativity.
Still, even the best outdoor art enthusiasts could use some inspiration sometimes. Whether you are woodworking, partaking in DIY crafts, making garden art, or even crafting sculptures, wood dowels are the perfect tool for you.
But how do you make the best use of your wood dowel for outdoor art projects?
Midwest Dowel has assembled a few tips for some DIY projects you can undertake to make the best use of wood dowels right at home.


Dowels for Your Home Needs from Midwest Dowel


There are many things you can do with wood dowels in your backyard. Let's look at five of the top ways to wood dowels for your outdoor craft projects.


Birdhouse Constructions


Wood dowels are an excellent component to use in any birdhouse craft or project. Not only are birdhouses great garden art, but they also attract local wildlife which can add beauty to your lawn and garden. Wood dowels can be used to create perches for birds to land on and they can provide structural support for the birdhouse frame. In addition, birdhouses can be used as pegs or bars inside the birdhouse to create landing spots for birds inside the house.


Outdoor Furniture Assembly


You can use wood dowels in the assembly of outdoor furniture. This DIY woodworking activity sees wood dowels used to connect wood pieces, providing additional strength and stability to your furniture. Dowels can be inserted into predrilled holes and glued in place to create a secure connection that will last for the furniture's lifetime.
Some of the top reasons you might consider using dowels instead of alternatives like nails or screws.


Strength. Dowels give you strong and durable joints that can stand up to humidity and temperature changes.


Aesthetics. Dowels give you a clean seamless joint because they are hidden inside of the wood.


Eco-friendly. Wood is an environmentally friendly resource and will decompose naturally as opposed to metal screws and nails which will not.


Use wood dowels to help you assemble chairs, tables, benches, and more!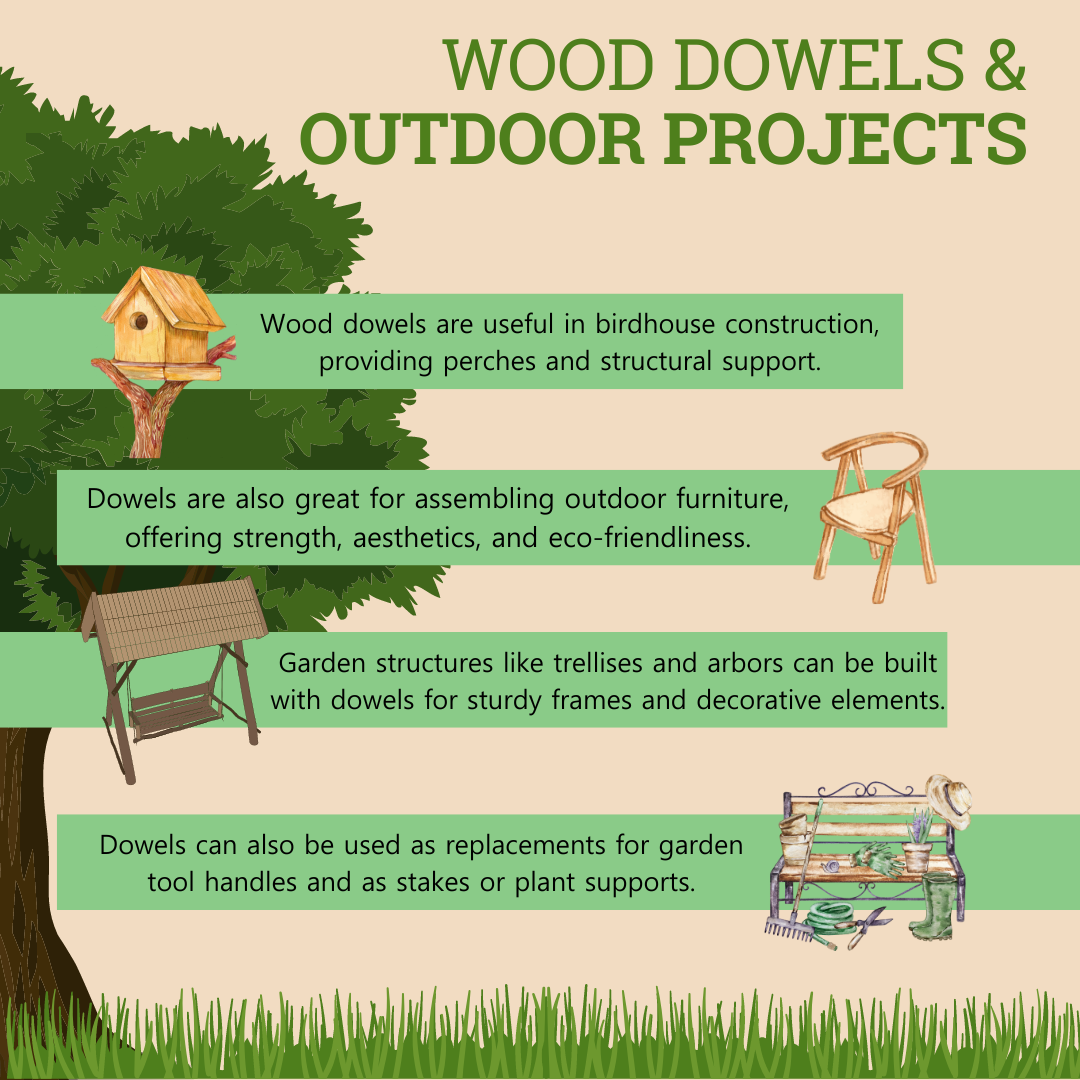 Garden Structures


Making garden or shade structures like trellises, pergolas, or arbors are prime opportunities to use wooden dowels. Dowels can be used to join wood pieces together to create a sturdy frame for climbing plants or providing support for other outdoor structures. This sturdy foundation can also be used as a decorative element like lattice patterns or ornamental details.


Garden Tool Handles


Your trowel handle broke! Now what? Wood dowels can be used as a replacement for garden tool handles such as shovels, rakes, or hoes. It is as simple as inserting them into the tool's metal or plastic head and securing the unit with glue or screws. Sand, paint, or stain your dowel for a comfortable fit in your hand that will last for years.
Garden Stake or Plant Support


You love gardening and dowels can make your efforts a whole lot easier. Use dowels as stakes in your garden to mark where plants will grow. Or you can use a dowel to support young and delicate plants to ensure that they have a base on which to build. Beyond that, you can use dowels to support netting or a short fence to protect your plants from local rabbits, squirrels, and other pests.
Dowels for Your Home Needs from Midwest Dowel


Dowels are one of the most useful tools at your disposal. They can be used for almost any home craft or project and because they come in so many sizes and lengths, they can be painted, sanded, or cut to fit your needs.
For all your home crafts and DIY projects, Midwest Dowel is here for you! We are your number one source for all your home dowel needs all in one online source.
Click here to shop Midwest Dowel's online catalog and find the perfect dowel for your home project!