Exhibition Coming Soon: Bartram's Boxes Remix Tour
Back To BLOG
Exhibition Coming Soon: Bartram's Boxes Remix Tour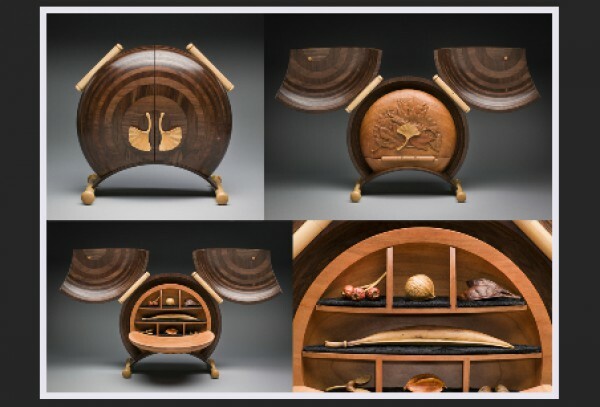 Starting May 2nd and lasting through mid-July, Philadelphia's The Center For Art In Wood will kick off a traveling exhibition called Bartram's Boxes Remix.
With this exhibition the Center invited artists to a unique opportunity to "remix" the history, inspirations and materials from one of America's oldest gardens into sculptural objects and installations. The exhibition represents a collaboration with Bartram's Garden, home of famed 18th century explorer and botanist John Bartram.
The title of this project references the boxes containing seeds, plants, and curiosities that Bartram began sending to his colleagues in England in 1735, a practice that made Bartram's Garden an international hub of plant knowledge and sharing.
John Bartram (1699-1777) was a third-generation Pennsylvania Quaker, born in Darby imbued with a curiosity and reverence for nature, as well as a passion for scientific inquiry. Bartram purchased 102 acres from Swedish settlers in 1728, and systematically began gathering the most varied collection of North American plants in the world.
A self-taught man, Bartram had the quintessential "can do" American spirit that continues to inspire us today. His travels – by boat, on horseback, and on foot – took him to New England, as far south as Florida, and west to Lake Ontario. He collected seeds and plant specimens, establishing a trans-Atlantic hub of plant exploration through his exchanges with London merchant Peter Collinson. Plants from Bartram's Garden were exchanged with the leading minds and patrons in Britain. In 1765, Bartram was appointed the "Royal Botanist" by King George III.
After a storm damaged the grounds, the Center put out a call to emerging and established artists to create works from 13 types of trees felled by high winds. The exhibition, 36 works by 40 artists, is accompanied by a lavishly-illustrated catalog, and will go on a national tour over the next two years. Details below!
May 2, 2014-July 19, 2014
The Center For Art In Wood
Philadelphia, PA
Center for Art in Wood
141 N. 3rd Street
Exhibiting artists: Dixie Biggs & Ray Jones; Beth Feldman Brandt & Claire Owen; Michael Brolly, Sean Campbell & Kevin O'Dwyer; Benn Colker; Ally Crow; Paige Davis & Bird Ross; Neil Donovan & John Vahanian; Ron Fleming; Amy Forsyth; Donald Fortescue & Matthew Hebert; Satoshi Fujinuma; Dewey Garret; Nathan Hansen; Katie Hudnall; Jack Larimore; Steve Loar & Christina Cassone; Don Miller & Christopher Storb; Benjamin Neiditz & Zachary Webber; Gord Peteran; Hilary Pfeifer; Tom Rauschke; Fred Rose; Judith Rosenthal; Mitch Ryerson; Joshua Salesin; John and Paul Santoleri; Christopher Weiland; and Leah Woods.
Anything else coming up this spring/summer? Drop us a line!