Summerfair Cincinnati 2014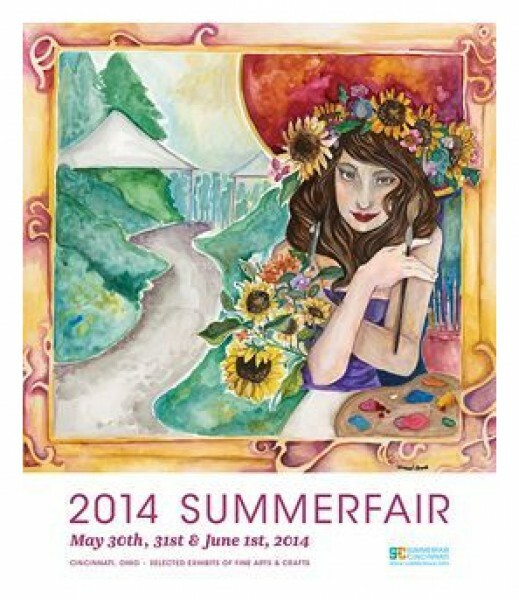 Have you been getting as excited for summer as we have? Well, there's a lot in store across the midwest as summer approaches, but one thing that we are STOKED for is Summerfair Cincinnati!
Summerfair 2014 returns for the 47th year on May 30, May 31 and June 1. The fair, located at Cincinnati's historic Coney Island, will feature more than 300 fine artists and craftspeople from around the country as well as regional performers, a variety of gourmet arts, the Youth Arts Rocks! area for kids. And NEW this year, enjoy "Summerfair After Hours" concert on the Acoustic Stage, featuring urban folk artist, Jen Chapin - from 8 - 10pm...cost of this new concert is included in the price of a Saturday ticket!
What started as a small art fair's salute to the opening of Cincinnati's Playhouse in the Park has grown into one of the oldest continuous art fairs, drawing more than 20,000 art enthusiasts to see and purchase the works of artists from across the United States and Canada.
Artists apply to exhibit their art at the fair in ten categories including photography, painting, wood, ceramics, fibers, leather, jewelry and 2D/3D mixed media.
Tickets can be purchased for $10.00 CASH ONLY at the gate with children 12 and under admitted free. Advance one day or multi-day tickets are available online. Click here to find out more about purchasing your tickets!
Summerfair 2014, which will be held 13 miles from downtown Cincinnati at historic Coney Island (just off I-275 at Kellogg Avenue), draws more than 20,000 people each year. Hours for the fair are 2 to 8 p.m. Friday; 10 a.m. to 8 p.m. Saturday; and 10 a.m. to 5 p.m. Sunday.
Know about some other cool events coming up this summer? LET US KNOW! We want to stay in the loop and spread the crafting love!