Wood Toys: Construction-grade Concrete Truck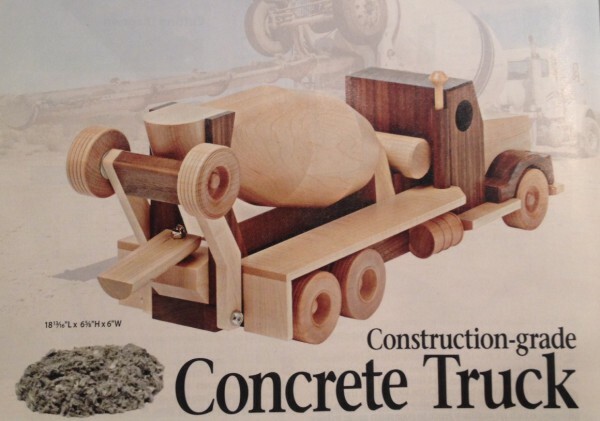 Have you gotten your copy of Wood Magazine this month? We certainly have, and let's just say that the March 2014 issue does not disappoint! Aside from numerous dowel-related 'Shop Tips,' this issue also includes the plans for a new item in their series of construction-grade wood toys: the concrete truck.
"When the digging and grading wrap up, the pour can begin. And this truck hauls the goods. The solid-wood drum adds a good bit of heft to the truck and gives you a chance to try some basic turning." At 1813/16"L x 65/8"H x 6"W this is a fun and rewarding project to commit yourself to. Or, if you're looking to keep it a bit more simple, you can simply build the truck as a flatbed and stop there.
To get started you'll first need to get a hold of the plan, so you can either pick up a copy of this month's Wood Magazine or head here, where you can download or send for it. Next you're going to want to purchase one of the three kit options which you can also find right here!
And if this project is grabbing your attention you may be interested in the full line of construction-grade toys that they have to offer. It all started with the crane in the September 2008 issue and has since come to include many more such as the skid loader, excavator, dump truck, bulldozer, tractor, scraper, motor grader, and end loader. Talk about having the whole crew at your service!
This is a great line to hone your woodworking skills, and is also a pretty cool way to get kids involved and interested in working with their hands on detail-oriented tasks.
Have any questions or ideas for future blog posts? Be sure to drop us a line or connect with us by Twitter and/or Facebook!